Handi Quilter sewing systems are simply the best home machine quilting systems available. Whether you're a beginning quilter or advanced, starting a business of your own or simply finishing quilts for your kids or grandkids, you can find the right Handi Quilter machine and related Handi Quilter accessories for the job.
The story began when founder Laurel Barrus needed an easy way to carry her frame on trips to her family cabin. There was nothing on the market that met her needs, but that didn't stop her. She worked with her father to create a frame that used her home sewing machine. It was light and small and could be adjusted to handle small or large quilts.
Fabrics Unlimited is happy to announce that we have been awarded the HQ Way award for the 5th year in a row by Handi Quilter in recognition of "Delivering results through superior service, education, and inspiration." We are proud to be able to provide Handi Quilter machines, accessories, frames, and more!
When you purchase an HQ Long Arm Machine from us, we come with it. If you live within 150 miles of our shop, we will come out and set up your stand-up machine and make sure you know how to use it before we leave. And we'll always be available to help you if you get "stuck" after we leave!
We have the HQ Sweet Sixteen, HQ Simply 16 on the "Little Foot" Frame, HQ Avante 18 , HQ Amara 20 and HQ 24 Fusion in our Quilt Studio, located in our shop. We have also added Handi Quilter's Stitch Sewing Machines, too! Stop by the Studio and see us. We will let you try out the machines and show you how one of them will fit your needs, space and your budget!

Ask about the excellent payment plans available!

| | |
| --- | --- |
| Showing 1 - 12 of 12 results | |
HQ 18" Capri Long Arm Machine

The HQ Capri is a BIG machine for SMALL spaces. Free-motion quilting was never easier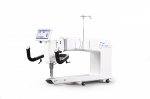 HQ Forte 24" Long Arm Machine
HQ Amara 20" Long Arm Machine

Handi Quilter Amara 20 inch Longarm Quilter Machine - 20 Inches of Creativity at Your Fingertip


HQ Sweet 16

Great affordable Sit-Down Long Arm Machine


HQ Simply 16

Space a problem? It simply fits!


HQ18 Avante

For the quilter who is looking for more quilting space, but wants a machine that makes the most ef?ficient use of a quilter?s reach.


HQ24 Fusion

The HQ24 Fusion® offers precision stitching, personal lighting options and a full 20" of quilting space so you can quilt even the biggest ideas.


HQ 26 Infinity

Adaptable, intelligent, creative, and strong. These words encompass everything that you are as a quilter. These same words perfectly describe the HQ Infinity 26.


HQ Pro-Stitcher

Computerized quilting. Available for all HQ Standup machines.


HQ Stitch 210

Simple, yet powerful. Perfect for classes!


HQ Stitch 510

The piecing and quilting workhorse. When you're looking for straight stitch and speed!


HQ Stitch 710

Piecing and appliqu? for quilters