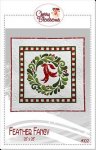 Feather Fancy Wreath Pattern

Uses AccuQuilt Dies


Feathered Christmas Pattern

Uses AccuQuilt Dies


Electric Quilt 8
Electric Quilt 8 - Upgrade from EQ7

EQ8 Quilt Design Software - Upgrade from EQ7


Artful Improv by Cindy Grisdela

Explore the world of Improvisational Piecing


Easy Striped Table Runner by Karen Montgomery

Uses border prints and the Creative Grids 60 degree ruler. Finished size is approx 16"x45".


Brag Bag by Sheri Lilienthal

Brag Bag Pattern


Create with Transfer Artist Paper
by Lesley Riley

Learn everything you need to know about how to use Transfer Art Paper - also called TAP - for quiltmaking, fiber arts, mixed-media, and papercraft projects


Crown Jewels Pattern by Deb Tucker

Finished size 38" x 38". Companion Pattern for the Rapid Fire Lemoyne Star Tool.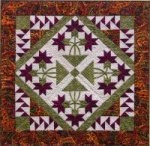 Miniature Carolina Lily Pattern by Deb Tucker

Finished Size 30" x 30". Companion pattern for the Wing Clipper Ruler


Victorious Pattern by Deb Tucker

Finished Size 55 1/2" x 55 1/2". Companion pattern for V-Block Trimmer.


Hunter's Star Pointed Table Runner Pattern by Deb Tucker

20" x 58" Finished Size. Designed to work with the Rapid Fire Hunter's Petite Star ruler.


Snowflurries Pattern by Deb Tucker

A complicated looking project that is actually easy to construct using Deb's Rapid Fire Lemoyne Star tool and techniques.


Deb Tucker's V Block Trimmer

A trim down ruler for one of quilting's most basic units.


Deb Tucker's Wing Clipper

For trimming down flying geese units.



Out of Stock
Tucker Trimmer I

Trimmer for half square triangles. Measures 1/2" increments up to 6".


Let's Twist Again by CS Designs

This book takes the "Twisters" up a notch with new techniques and patterns that put both twister tools together in more ways.


Let's Twist by CS Designs

Featuring a dozen patterns using both the Lil' Twister and the Twister. From an apron to table runners and quilts using both sizes.


Itty Bitty Pinwheels from Primitive Gatherings

Makes 1" Finished Pinwheels.


More Strip Clubbing by Daniela Stout

The sequel to Strip Clubbing, More Strip Clubbing offers another round of great patterns that start with 2½" strips! All of the quilts are great for Strip Club bundles, Jelly Rolls or your own Stash!


Perennial Pinwheels by Happy Stash Quilts

Create the soft look of applique without all the work. Each pinwheel flower and leaf is made with simple piecing. Green 1/4" fusible Clover bias tape is used for stems on the flower panels. Finished size 78" x 96"


Rapid Fire Hunter's Star Ruler - Petite Star

A Totally new Way to Construct Hunter's Star Quilts. Created by Deb Tucker


Rapid Fire Lemoyne Star Ruler

Revolutionary Construction Technique and Trim-Down Tool for 3" - 12" Finished Block Sizes.


Stepping Stones by Happy Stash Quilts

Simple strip piecing and easy curves create the background blocks for "Stepping Stones". Fusible interfacing is utilized to sew perfect circles with the edges already turned under. A quick blind stitch by hand or machine is all that is needed to secure th


Strip Clubbing by Daniela Stout

This has six terrific patterns. All of them are perfect for Strip Club Bundles and Jelly Rolls!


Strip Tubing

Strip Tubing is another in the line of top-selling books by Cozy Quilt Designs and Daniela Stout.


Tuscan Vineyard by Happy Stash Quilts

Bold and rich autumn batiks imbue a feeling of fall in Tuscan Vineyard. Cascading foliage with delicate tendrils and berries add a softening touch to this autumn beauty. Finished Size 74.5" x 92".